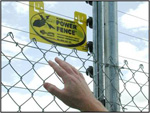 PowerFence Systems is the force behind perimeter protection. With a PowerFence system from Gallagher Security Management Systems, your perimeter becomes your first line of defense, a point of strength and protection. It provides intelligent, active deterrence & detection – 24 / 7. For an organization with one or more large sites, an in adequately secured perimeter represents a significant security risk.
PowerFence systems work as an active deterrent to potential intruders. They also detect and immediately alert your security department or monitoring company of an attack. This sends a clear message to would-be intruders, customers, the public, authorities, and your insurance company that you're serious about security and safety.
Applications:
High Security Defense Sites , Manufacturers & Distributors , Ports , Utilities Sites, Research Facilities, Car Yards, Self Storage Sites , and correction facilities .
A few crucial points to consider:
Safe & legal
Zoned for immediate Detection Of Attack & a Targeted Response
Durable and cost effective solutions
Versatile & Customizable
Stand alone or Integrated systems
Setting the Standard
Site Certification & Maintanence support contract